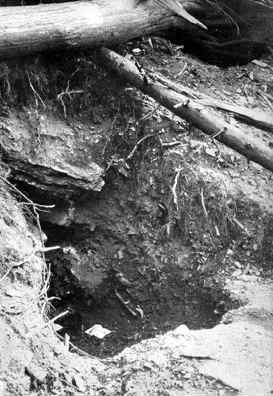 Hole on Joe Beauchamp Clearing
where he and Roderick Ames and
5 members of John Bell's Fire Crew died
in 1910 Fire. Middle Fork of Big Creek.
Museum of North Idaho Photo.


Roderick Ames was one of three homesteaders at the Beauchamp homestead on a tributary of the Middle Fork of Big Creek where the fire fighting crew of Bell sought refuge. The other two homesteaders were J. E. Beauchamp and Upton Smith. All three homesteaders lost their lives in the forest fire as did seven members of Bell's crew.
Roderick A. Ames' parents lived their married lives in Newport Township, Lake County, Illinois. Roderick's father, Roderick D. Ames, became a stone mason and with his wife, Barbara, raised nine children, except for one son, Martin, who died at age 14. Roderick D. was born in Pennsylvania, and Barbara was born in Germany. This is from U.S. Census records of 1860 through 1910.
Roderick A. Ames was a barber according to the U.S. Census of 1900. In 1900 he was still living in Newport Township, Lake County, Illinois.
The February 29, 1908 General Land Office map of the township (T47N, R3E) showed Ames' cabin on a tributary of Early Creek a mile upstream from the Beauchamp place where Roderick Ames and others lost their lives in 1910. In these watersheds of about 2000 acres flowing into the Middle Fork of Big Creek, there were nine homesteads marked on the 1908 G.L.O. map, including "M Earley", "Beauchamp" and "Ames". Others marked were those of "Lasalle", "Bowman", "Wilson", "Rabicheoux", "Cheney" and "Boucher".
Roderick Ames, Age "41", is listed in the Shoshone County Coroner's Record as having died August 20. In the Relations or Friends column of the Coroner's Record are listed: Brothers C. E. Ames, Idaho" "H. C. Ames Russell, Ill.
Noteworthy in the next row of the Coroner's Record is the entry for Rod. Ames Age 30 with Brothers Sandpoint buried at Big Creek In trench with 6 others In trench No. 2. That's at the Beauchamp homestead. The identity of this second Ames is not known.
From Forest Supervisor Weigle's June 24, 1911 report:
53. Roderick A. Ames.
Buried by brothers. Homesteader on big Creek. Not working for Government at this time.
Time.
Aug. 11 - 12 hours
12 - 12
24 hours. $6.00 amount due.
Roderick A. Ames is buried in the family plot in the Mount Rest Cemetery at Wadsworth, Illinois next to his brother, Martin. Over a ridge to the south from Ames' Idaho homestead site, the stream there is now called Ames Creek.
Thanks to George Magers and David Poelman of Russell, Illinois for locating Ames' plot and headstone.